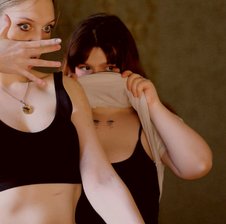 | | |
| --- | --- |
| 性别 | 双人女+女 |
| 感兴趣 | 女性, 男性, 夫妻, 变性人 |
| 年龄 | 21 |
| 身高 | 5'4" - 5'6" [160cm - 170cm] |
| 体重 | 160 - 180 磅 [70 - 80 公斤] |
| 头发 | 金发女 |
| 眼睛 | 棕色 |
| 种族 | 白人/高加索人 |
| 语言 | 俄语, 英语 |
| 阴毛 | 修整过的 |
| 胸围 | 大 |
| 屁股 | 大 |
What do we like? As you can see in any other room - we are always glad to meet kind openminded people who are fascinated by our lovely couple. ^^
If you are reading this text - greetings to you! This is important!
We are Diana and Martha. We are a real couple, dating and living together and rising a cat :)
Diana:
In my opinion Martha is special. This girl is outcoming in her intellect, she speaks English really good, also Russian and even a bit German is okay for her. Are you in love? Personally for me this information is enough to start cumming. My tall lady is gentle and really cute when no one sees. I affectionately call her my kitten and she allows herself to be petted. I know that she is that very person I want to spend my life with.
Martha:
Diana is the Sun that shines brighter than the one in the sky. Her smile can safe even the worst day ever. My love has very mystical vibes - she is passionate for esoterics and does tarot reading, and her drawings look sooo special and unlike any of those I have ever seen in the artist community. I am totally sure we will be together all the life long.
And what we do never appreciate is rudness or total sexualisation. Remember that we are persons first! And only then - your lovers to spend time with. Respect us just as you have met us in real life, and everything will be perfect!
DOUBLE--EVA的业余剪辑

100 个代币
0:31